Royal Sussex County Hospital
Eastern Road, Brighton, East Sussex BN2 5BE
Switchboard Telephone: 01273 69 69 55
Website: visit website
Princess Royal Hospital
Lewes Road, Haywards Heath, West Sussex RH16 4EX
Switchboard Telephone: 01444 441 881
Website: visit website
Key Individuals
Director of Medical Education: Varadarajan Kalldasan
Clinical Tutor: Jeremy Tibble (RSCH) and Andrew Elkins (PRH)
Medical Education Manager: Nora Tester
About Brighton and Sussex University Hospital Trust
The Trust has two main hospital sites: Princess Royal Hospital (PRH) which includes Hurstwood Park Neurological Centre in Haywards Heath, and the Royal Sussex County Hospital (RSCH) which includes the Royal Alexandra Children's Hospital in Brighton. Placements are at one of these hospitals during your rotations. Both hospitals are within easy reach of London with frequent trains to London Bridge and London Victoria stations. A free bus service runs hourly between each hospital site.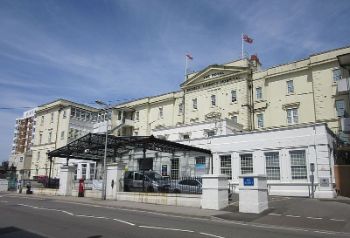 The Trust works in partnership with the Brighton and Sussex Medical School which is one of four new medical schools created as part of the government's strategy to increase the number of qualified doctors from the UK working in the NHS. Brighton and Sussex Medical School has become one of the most popular choices for medical students in the UK. Therefore you can expect to work within a stimulating environment.
The Director of Medical Education is the academic lead for postgraduate training within the Trust. Postgraduate Departments are based on both hospitaol sites with dedicated administartive staff to support you.
The Euan Kent Education Centre, based at the Princess Royal Hospital and the Sussex Medical Education Centre based within the Audrey Emerton Building (AEB), Brighton, provide professional expertise and support for medical and dental trainees working within the Trust and the wider community. The centres ensure competence and performance of trainees is assessed effectively and tutors are available for careers information, advice and counselling.
The Audrey Emerton Building is located opposite the main entrance to the Royal Sussex County Hospital and is a combined education facility for the Trust and Brighton and Sussex Medical School. It provides state of the art facilities with 16 teaching rooms, 2 lecture theatres and a clinical skills lab. It also enjoys a restaurant facility on the top floor with stunning views across the sea.
The Euan Kent Education Centre at the Princess Royal Hospital is located on the second floor opposite the library. The centre has two lecture theatre, one seating 150 (and is divisable into two separate seminar rooms each fully equipped with state of the art audio and visual facilities) and an 80 seat lecture theatre. In addition there are two further seminar rooms.
There are multi-professional libraries on both sites adjacent to the Education Centres. There is a superb range of educatonal resources that can be accessed 24 hours. These inlcude printed and electronic resources covering a wide range of books, journals and exam questions. Computers with internet access are available in both departments and there is access to a wide range of relevant databases such as Embase and Medline.
Photo Attribution
Royal Sussex County Hospital, Author Hassocks5489