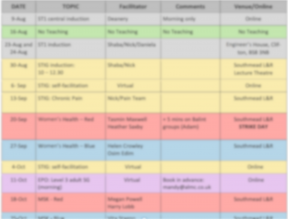 Teaching usually takes place on the second, third and fourth Wednesdays of the month; mornings (9 am start) for ST1/ST2 trainees and afternoons (1 pm start) for ST3 trainees. It is a requirement of the Attendance Policy that you come to a minimum of 70% of the patch teaching sessions for your group.
In ST1/ST2 years teaching is monthly. You will be allocated either red or blue group. If you cannot attend your own small group teaching you can join the other group in that month. During your General Practice rotation in ST1/ST2 years, you attend teaching 3 times a month, once when your red/blue small group has teaching, and then two additional sessions with just those doctors currently in general practice (STiG for short).
In ST3 year teaching is usually 3 times a month. Your Educational Supervisors are aware that you must be available to attend the session. There are occasional full-day sessions to be aware of on the timetable.
Teaching is usually in person but may sometimes be offered online. Teaching takes place at the Southmead Hospital Learning and Research Centre, Bristol BS10 5FN (Map on Contact Us page) Please be aware that parking is often difficult on surrounding roads if you are driving but you may be able to walk, cycle or use public transport. Please arrive on time out of courtesy to the organisers and speakers.
The timetables below are updated weekly as some sessions later in the year have yet to be planned or confirmed. Always check whether the teaching is in person or remotely, You may need to to confirm your place for some sessions by email but this should be clear on the timetable and you would usually also receive an email reminder.
ST1 and 2 Session Plan (9am start unless otherwise stated):
ST3 Teaching Programme (1pm start unless otherwise stated):
Avon LMC Courses
As part of your training programme, an external educational provider organisation (EPO) has been commissioned to provide educational sessions. This is Avon LMC and you can see their programme here.
In addition to the pre-booked sessions listed below and also in the timetable, you can book any number of additional online sessions for free by emailing Mandy Williams on mandy@lmcukservices.co.uk. Please do not try to book these online through the LMC events calendar as you may be charged a fee.
(a) Level 3 adult safeguarding online (morning session) October 11th 2023
(b) Level 3 child safeguarding online (afternoon session) December 6th 2023
(c) CAMHS training in person at Engineer's House February 14th 2024 (afternoon)
(d) Endocrinology session TBC – currently looking for speakers so topic may change (afternoon) April 10th 2024
(e) Men's Health full day at Engineer's House confirmed May 22nd 2024