Guidance for the GP trainee working week has been introduced to help standardise the amount of clinical work and educational work for those in a general practice placement. This guidance applies only to ST1-3 in general practice.
As a basic outline, there are 10 sessions in the working week, each session is about 4 hours.
7 sessions should be clinical
2 sessions are for structured education (roughly: 1 for half-day release, 1 for tutorial)
1 session is for independent education
Trainees will have 25 days holiday (plus bank holidays), and 30 days study leave. Once formal educational events are removed from the study leave allowance, this leaves 10 days for trainees to use for furthering their own professional development.
Independent educational sessions could include:
Primary care team meetings
Audit and research in general practice
Independent study/revision
Commissioning service meeting
Time spent with other professionals e.g. other healthcare workers, death administrators/undertakers, alternative/complimentary therapists
Getting to know and help to maintain links within the local community
All of these sessions need to be negotiated with your supervisor, who will need to monitor the content and guide these as necessary. These sessions need to be documented in your eportfolio.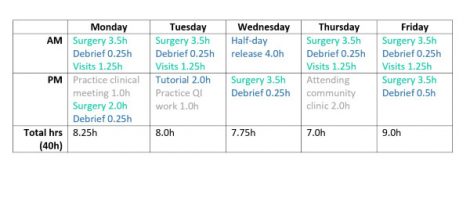 Full Time Example
The example to the left shows how this week could look. This will vary depending on your practice. In Somerset we have either a half-day release session once a month in ST1/2 or a whole-day in ST3, so this needs to be taken into account. If there is no half-day or whole-day teaching that week, this session should be a clinical session. This is relatively standard throughout Severn. The amount of educational sessions evens out over the 3 year programme.
As you can see, hours vary on each day, and the week is set over 5 days to include a 40 hours working week. If you were to complete more hours on certain days, then the week could include a half day to ensure you are compliant with the 40 hour working week.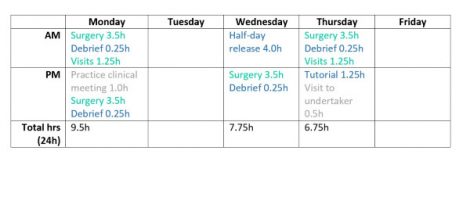 Less Than Full Time Example
The example to the left is a 60% timetable. For full time trainees there are 7 sessions (28h) a week for clinical work, 2 sessions (8h) a week for structured education and 1 session (4h) a week for independent education. Therefore as a 60% rota, there would be 4.2 sessions (16.8h) a week for clinical work, 1.2 (4.8h) sessions a week for structured education and 0.6 (2.4h) sessions a week for independent education. The decimals make these difficult to work out in reality, so this should be worked out over a longer period to make this more feasible.