Welcome to International Medical Graduates on choosing to train in Exeter VTS!
I am Dr Abhi Gotadki and an IMG GPST2 who graduated from Mumbai, India and came to pursue GP training in UK from my adopted country- New Zealand and I made the best decision to train in Exeter moving from Manchester in Aug'19.
As overseas trained doctor, in my experience, your unique background, PLAB pathway to register in UK, cultural heritage and innate resilience will prove to be your assets during GP training. The GP trainers are aware of the support you may need to settle in the new area and also the training programme and have good support in place to help you succeed. Your Educational Supervisor oversees your hospital work and then directly working with you in GP land in ST1/2.
Whilst in the hospital, I have had the pleasure to be the inaugural IMG representative on the Trust's Junior Doctor Forum- a strategic forum comprising of several key stakeholders and help develop your leadership skills for GP career. The Doctor's mess is a great place to network and develop further confidence in navigating the hospital systems and will have an IMG Rep to support your wellbeing and IMG socials from Aug'21.
In the hospital, your learning needs are supported by Consultants who will also act as your Clinical supervisor during your 18 months in RD&E Hospital and will complete your assessments and reports.
Your Educational Supervisor overseeing your hospital work and then directly working with you in GP land in ST1/2 and meets you for formal reviews every 6 months.
In addition, Exeter VTS has great team of TPDs supported by GP committee with representation from all ST years and well led by leadership scholars who continue to suggest innovative ways to deliver teaching on VTS days. The teaching days are a great way to collaborate with your peers and draw nuggets of wisdom to manage e-portfolio, exams and meeting ARCP requirements.
I take opportunity to welcome you all to this Training scheme on behalf of my fellow IMG colleagues and fellow GP trainees who have a wealth of experience and are always happy to help via active Whatsapp groups for each year and a larger group for key messages and socials!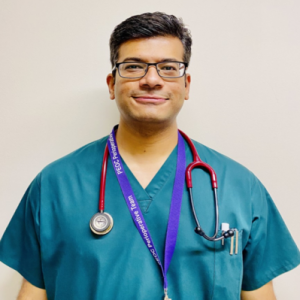 We sincerely hope you have a great time training and living in Exeter and find some resources in this section that will help you in your onboarding!
Dr Abhi Gotadki
GPST2