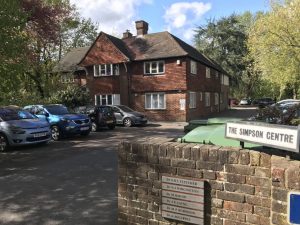 Beaconsfield Medical Centre,
Walkwood Rise,
Beaconsfield
HP9 1TX
Tel: 01494 671 571
Penn Surgery
Elm Road,
Penn,
HP10 8LQ
Tel: 01494 817 144
Practice Manager:
Katie Gemmell
Trainers:
Dr Ashok Aggarwal,
Dr Matthew Robinson
Website: www.thesimpsoncentre.com
Practice Information
The Simpson Centre and Penn Surgery comprise an enthusiastic, friendly and forward-looking practice covering Beaconsfield and Penn in South-East Buckinghamshire. We have 13 doctors looking after approximately 17500 patients across our two sites and look after a predominantly affluent population with a good mix of elderly patients and young families.
We have a long history of being a training practice and a wealth of training and education experience amongst our partners and staff at both sites including one established trainer, one new trainer as well as a member of the GP Update team and several colleagues who have been involved in training previously.
Dr Ashok Aggarwal has been a GP trainer for 20 years. He is a CSA examiner and an ARCP panel member. We are therefore fully aware of the requirements for successful completion of the MRCGP and we prepare GP registrars accordingly.
Dr Matthew Robinson is a newly qualified trainer and is the practice diabetic lead.
Our wider practice team includes 6 practice nurses, 2 healthcare assistants, a practice pharmacist and two practice paramedics who have recently joined the practice. We meet regularly with our colleagues in the community and have an active in-house education and quality improvement programme in which the involvement of our registrars is encouraged.We achieved a "good" standard in our most recent CQC visit in late 2016. The practice uses the EMIS clinical system. We strive to achieve the right balance of training and service needs and we are looking to create an excellent training experience for the registrars who spend time with us.