Dr Rik Elliott
Based at: St Mary's Hospital, Block C1, Portsmouth
I am a partner and trainer at Gudge Heath Lane Surgery in Fareham. I also help out with chairing ARCP panels when I am not working clinically or as an AD. I have a daughter who absorbs most of my free time, but still manage to get out boating occasionally. I have a black lab and a Siamese cat, which constantly vie for supremacy on the sofa!
Dr Bryony Sales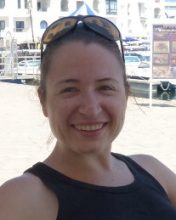 Based at: St Mary's Hospital, Block C1, Portsmouth
I am a programme director for the Foundation Year 2 doctors who undertake a rotation in GP as well as for the ST1/2 GP training years. I completed my GP training on the Portsmouth VTS scheme in 2013. I then undertook a Wessex GP Fellow job (ST4) in Quality Improvement and Medical Education, which has allowed me to develop my interest in medical education. I now work as a GP Partner at The Portchester Practice. I am currently completing a Medical Education Masters at the University of Winchester.
Having trained in London at Imperial College, I have enjoyed my training and living in Wessex and would recommend it to all. When not working, I enjoy travelling and a spot of wine tasting.