The half-day release sessions are held every Thursday afternoon in term-time either at Finchley Memorial Hospital or virtually via Zoom.
The afternoon begins with a presentation on a mixture of clinical and non-clinical subjects delivered usually by Specialist Consultants, General Practitioners or GP trainees. As would be expected, the emphasis is primary care driven and provides clinical knowledge as well as practical information to help in life in General Practice.
Following the main talk, small group discussions take place facilitated by the Training Programme Directors (TPDs) covering clinical cases and situations which may have been difficult or challenging. The patient case discussion help understand encounters which cause uncertainty, difficulty or unexpected emotions. There is an emphasis on promoting self-development and reflection within a safe learning environment.
We aim to have an annual residential two-day course, which allows trainees to study a topic in depth that is relevant to General Practice. The course encourages interaction and the development of team bonding and is usually led by a group of trainees.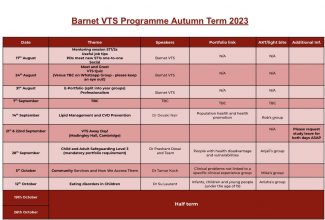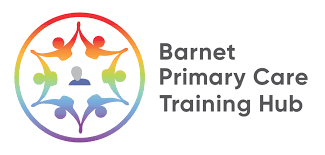 Barnet Training Hub
The Barnet Community Education Network was initially created in 2014 and was reformed to The Barnet Primary Care Training Hub in 2019. The goal of the training hub is to improve the health, wellbeing and care available to people in Barnet through strengthening of the health and care workforce. The training hub has brought together over 30 organisations together to focus on how the workforce can best be developer to support local communities.
The network aims to have:
Increased access to training and development for the health and care workforce in Barnet
Improved morale of health and care workers
Improved intergration of health and care services
The Barnet Training Hub receives funding from Health Education England and works closely with Barnet CCG and the Public health team in Barnet.
The Barnet Training hub website has a wide variety of training and education opportunities. There is monthly Pan Barnet meeting held every first Wednesday of the month which includes updates from the CCG, Barnet Federation GPs and also covers an educational topic including useful new or change to clinical guidelines.
Headover to https://www.barnetcepn.org.uk/events/ to find out more and access all training and educational events. This months events:
You can also register onto https://gps.northcentrallondonccg.nhs.uk/to access further comprehensive training and events outside of the Barnet area.