GP Training Programme Administrator
Susan Smith
Susan is our programme administrator who ensures the course runs smoothly. She is a great point of contact for queries. She is based in the education office and works Monday and Tuesday 8.30am-5.00pm and Wednesday 9.30am-1.30pm.
Programme Directors
The programme directors work for the training scheme on Tuesdays when they can generally be found in the Education Centre.
Dr Nina Brown
Nina is a GP partner at Wychwood Surgery in Shipton under Wychwood. She is a GP trainer and one of the hosts for our trainees doing community gynaecology.
Dr Suzie Gill
Suzie is a GP and trainer at Bassett Road Surgery in Leighton Buzzard, Bedfordshire. Sadly this is too far away to host trainees from North Oxfordshire so Suzie has GP trainees from the Milton Keynes Scheme (also part of the Thames Valley GP School).
Dr Ann Sanders
Ann is a GP and trainer at Banbury Cross Health Centre.
Associate GP Dean
Dr Rohit Kotnis
Dr Rohit Kotnis is our AD. He is a GP and trainer at St Clements Surgery in Oxford. He is a medical school tutor, GP Appraiser and also a PCN Clinical Director. He is passionate about teaching and education.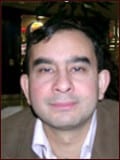 Thames Valley School of General Practice