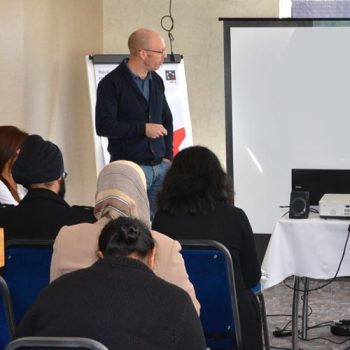 Residential courses allow subjects to be explored in much greater depth than is possible on the day release scheme.
They are also a great opportunity for getting to know one another better and team building, which is essential in preparation for the assessments for MRCGP.
The Programme Directors therefore aim to run two 48 hour residentials per year at varying venues. Subjects that have included "Law and Peace", "Sex on the Beach", and ethical dilemmas. We have been to hotels in Brighton and Bournemouth as well as Cisswood House near Horsham, as well as outings to the London Eye, and a summer boat trip around Poole Harbour.
In the recent past the subject matter of the residentials has moved towards CSA preparation. This has become an almost essential part of the training scheme, and our students have always fed back about how useful and important this session has been. As a consequence we now run this early in autumn, as well as day courses in CSA preparation for our ST1 and ST2s prior to starting their GP placements, utilising simmulators from KSS Deanery. We are now reaping the benefits with improving CSA outcomes. We have hence looked for more appropriate facilities for CSA preparation, and as a result have been using the Lingfield Race Course and the facilities at the attached Marriott Hotel which lend themselves to CSA practice as well as some excellent facilities.
You might like to look through some photos from our most recent residential.