In ST2, teaching takes place on alternate Tuesday afternoons. These sessions would usually take place in the Education Centre, but will be held using Zoom until further notice.
Trainees in a GP or GP+ placement should attend the Communication Skills course. This is run by GPs at Oaks Family Practice, and would normally take place at Crompton Health Centre; due to the pandemic, these will run using Zoom or MS Teams until further notice.
Links to sessions will be emailed out in advance, and will appear here the day before teaching is scheduled.
to avoid unwelcome visitors, participants will be verified in the waiting room so please ensure your display name matches with one of the ST2 list!
If the speaker has provided session handouts, they will be linked to from the session down below.
Date
Time
Venue
Session
Tutor
1st Sept
2-4
Zoom
ST2 Education Session Intro and how programme works
session materials
Seb/Kat
8th Sept
2-4
Zoom
Communication Skills for the Consultation
(email for Zoom link)
Julian Tomkinson
15th Sept
2-4
Zoom
ST2 Education Session AKT & Remote Consulting
session materials
Seb Pillon
22nd Sept
2-4
Zoom
Communication Skills for the Consultation
(email for Zoom link)
Julian Tomkinson
29th Sept
2-4
Zoom
ST2 Education Session
Type 2 Diabetes
session materials
Seb Pillon
6th Oct
2-4
Zoom
Communication Skills for the Consultation
(email for Zoom link)
Julian Tomkinson
13th Oct
2-4
Zoom
ST2 Education Session Public Health Session: Physical Activity
resources

Jessicarr Moorhouse
20th Oct
2-4
Zoom
Communication Skills for the Consultation
(email for Zoom link)
Julian Tomkinson
27th Oct
2-4
Zoom
ST2 Education Session : Genomics
resources
Glenda Beaman
3rd Nov
2-4
Zoom
Communication Skills for the Consultation
(email for Zoom link)
Julian Tomkinson
10th Nov
2.30-5
Zoom/MS Teams
ST2 Education Session Respiratory Problems

Andrew Thurston
17th Nov
2-4
Zoom
Communication Skills for the Consultation
(email for Zoom link)
Julian Tomkinson
24th Nov
2.30-4.30
Zoom/MS Teams
ST2 Education Session: Psychosomatic and Chronic Pain
resources
Damien Herron
1st Dec
2-4
Zoom
Communication Skills for the Consultation
(email for Zoom link)
Julian Tomkinson
8th Dec
2-4
Zoom
ST2 Education Session:
Chronic Disease
Seb Pillon
15th Dec
2-4
Zoom
Communication Skills for the Consultation
(email for Zoom link)
Julian Tomkinson
12th Jan
2-4
Zoom
ST2 Education Session:
Lifestyle Medicine

Sandra Quenault
19th Jan
2-4
Crompton Health Centre
(maybe)
Communication Skills for the Consultation
(email for Zoom link)
Julian Tomkinson
26th Jan
2-5
Zoom

ST2 Education Session:
GP Chronic and Common Illness
Seb
Pillon
Session Handouts
Introduction, AKT & Remote Consulting
Speaker: Seb Pillon, 15/09/2020
Type 2 Diabetes
Speaker: Seb Pillon, 29/09/2020
ADA/EASD Type 2 Diabetes Pharmacological Therapy Guidance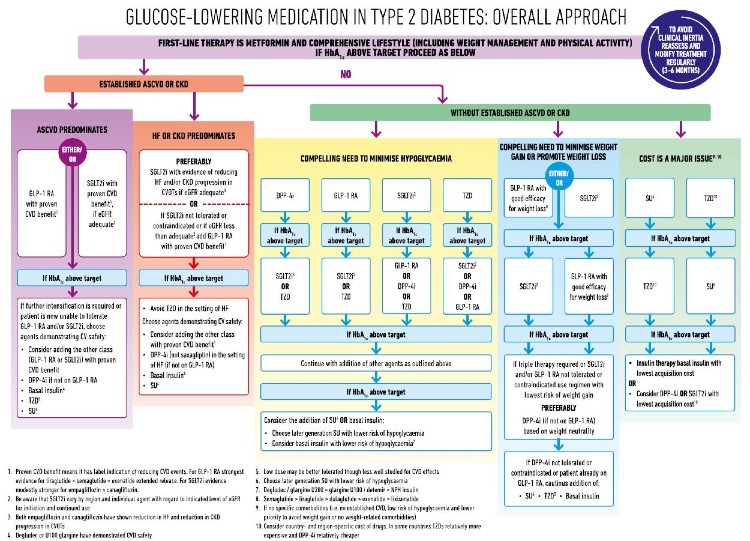 | | | | | | | |
| --- | --- | --- | --- | --- | --- | --- |
| | SU | PIO | DPP4 | SGLT2 | GLP1 | Insulin |
| Efficacy | High | High | Intermediate | Intermediate | High | Highest |
| Hypo Risk | Moderate | Low | Low | Low | Low | High |
| Weight | Gain | Gain | Steady/Loss | Loss | Loss | Gain |
| Side Effects | hypo | Oedema, HF, ?bladder cancer | rare | GU, DKA | GI | hypo |
| Costs | £ | £ | £££ | £££ | £££ | £-£££ |
| Renal | eGFR >15 | Not dialysis | Dose adjust | eGFR >60* | eGFR >30 | Dose adjust |
| Examples | Gliclazide Glimepiride | Pioglitazone | Alogliptin Linagliptn | Canagliflozin Empagliflozin | Semaglutide Dulaglutide | Lots! |
Summary of SIGN Type 2 Diabetes Advice
Diabetes Advice, Lifestyle Advice and Health Trainers
Functional Illness
Speaker: Dr Damien Herron